­­For Immediate Release: December 19, 2019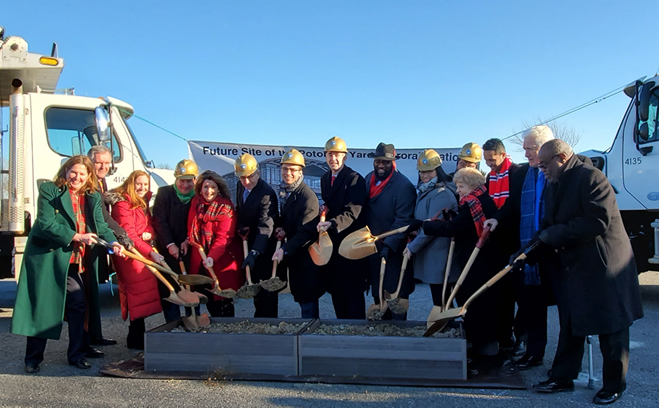 The City of Alexandria held a public groundbreaking ceremony for the new Potomac Yard Metrorail Station on December 19, marking the start of major construction for one of the largest infrastructure projects in the region. The event took place at the future location of the station's northwest entrance, adjacent to the Regal Potomac Yard movie theater.
"Today's celebration is a major milestone that has been a quarter-century in the making," said Mayor Justin Wilson. "Alexandria has worked closely with Metro and our federal and state partners to plan for a new Potomac Yard Metrorail Station that will improve mobility, promote economic development, and protect our environment. We now officially move from planning the station to constructing the station."
Hundreds of project partners and stakeholders attended the event, including community members; elected officials; consultants and contractors; and representatives of many federal, state and regional agencies.
"This will be a world-class station that will soon serve new riders," said Governor Ralph Northam. "I'm proud of the great work our public transit systems all across Virginia continue to achieve as we work together to connect all Virginians to more job opportunities."
"Metro is the heart of our transportation network, and the addition of the Potomac Yard Metrorail Station will benefit the region for generations to come," said Paul Smedberg, chair of the Metro board. "We can't wait to welcome the Potomac Yard Station to the Metro system."
"The new Potomac Yard Metro Station will provide an attractive transit option in the Route 1 corridor that will help reduce traffic congestion and provide access for the entire D.C. region to and from this growing activity hub in Northern Virginia," said Marty Nohe, chair of the Northern Virginia Transportation Authority. "The Authority saw the importance of allocating nearly $70 million toward the implementation of this multimodal project, which is expected to reduce 22 million person-hours of delay by 2040, allowing people to get home to their families faster."
"Today's celebration was made possible by thousands of residents, businesses and organizations who have provided input throughout the history of this project, as well as the hundreds of City and partner agency staff members who have contributed their expertise," said City Manager Mark Jinks. "When we return to this site in just over two years to cut the ribbon on the new Potomac Yard Metrorail Station, it will be an accomplishment of which we can all be very proud."
"This new station will help build community connections between neighbors, businesses and visitors," said Mila Yochum, president of the Potomac Yard Civic Association. "We are so looking forward to taking our first trips from our new neighborhood station."
The new Potomac Yard Metrorail Station, to be built on Metrorail's Yellow and Blue Lines between the existing Braddock Road and Ronald Reagan Washington National Airport stations, will provide an extensive range of benefits for Alexandria and the surrounding community, including walkable access to regional transportation systems for neighborhoods in the northeast area of the city. The station is also expected to generate billions of dollars in new private sector investment over the long term and eventually support 26,000 new jobs and 13,000 new residents. The Potomac Yard area represents the most significant redevelopment and tax base growth opportunity for Alexandria, with the potential to achieve the vision for an urban mix of uses near transit.
The $320 million station construction will be paid for with new tax revenue from development in Potomac Yard over the next 40 years, funding from the Northern Virginia Transportation Authority, a special tax district in North Potomac Yard, a low-interest loan from the Commonwealth Transportation Board, and significant developer contributions. The station is scheduled to open in early 2022.
For more information, visit alexandriava.gov/PotomacYardMetro.
For media inquiries, contact Andrea Blackford, Senior Communications Officer, at andrea.blackford@alexandriava.gov or 703.746.3959.