Memo for fiscal year 2022, updated 2021-03-22
[Archived] Question # 38: Please provide an update to FY21 budget question 44 to provide a memo regarding Council Aide compensation and benefits for City Council consideration.
Question:
Please provide an update to FY21 budget question 44 to provide a memo regarding Council Aide compensation and benefits for City Council consideration and any change in cost to implement option 3 on page 4. (Vice Mayor Bennett-Parker)
---
Response:  In October of 2019, Vice Mayor Bennett-Parker and Councilman Aguirre requested a review City Council Aide compensation. In response, City staff conducted a comparator jurisdiction analysis, and the City Manager provided a memorandum to the City Council, which outlined the results of the analysis and included staff recommendations (see Attachment A for the memorandum and supporting documents).
This budget question response updates the above-mentioned memorandum with the results of the latest comparison in response to Vice Mayor Bennett-Parker's FY 2022 budget question.
Scope of Comparator Analysis
In reviewing compensation, staff's research primarily included the following comparator jurisdictions: Arlington County, Fairfax County, Prince William County, Loudoun County, and Montgomery County. In staff's research it was found that each jurisdiction's employment and compensation structure for elected officials' staff varied. There is currently no regional standardization or common practice implemented for Aide employment. The Aides in these jurisdictions provide a wide range of services to their Council or Board Members and hold a variety of job titles. These services include, but are not limited to, public relations, analysis, communications, and administrative support. Some Aides are at-will employees hired directly by the elected official they serve, and some Aides are not at-will but hired by the jurisdiction to provide ongoing service even if there is a change in the elected officials.
After reviewing full-time job descriptions for elected officials' support staff in the neighboring jurisdictions, staff determined that the work those Aides perform appears comparable to the types of work Alexandria City Council Aides perform. Aides in most jurisdictions in the region, including Alexandria, respond to constituent requests, review dockets, coordinate schedules, and provide feedback to their Councilmember about issues in the City. In addition, Aides may also prepare research, analyze data, and monitor social media depending on the needs of the Council member.
Part-Time Versus Full-Time Employment
Of the area counties researched, all have full-time administrative staff, defined by formal job classifications, to support the work of their Board of Supervisors. Jurisdictions with part-­time administrative staff are in addition to full-time employees. Alexandria is the only locality among those surveyed that supports its Council members utilizing part-time administrative staff.
Wage and Benefits Comparisons
Currently, part-time Alexandria City Council Aides earn $31,411 annually based on the historical assumption of a 20-hour work week. The table below shows the City's standard market rate comparison of budgeted salaries for administrative support of elected legislative officials in our regional jurisdictions.
Since other jurisdiction's Aides are full-time, to review the City's position from a full-time apples-to-apples perspective, the current budgeted salary of $31,411.64 was multiplied by two ($62,823.28), in order to approximate a full-time salary, using the historical assumption on which the current Aide salary was set of an average of 20 hours per week.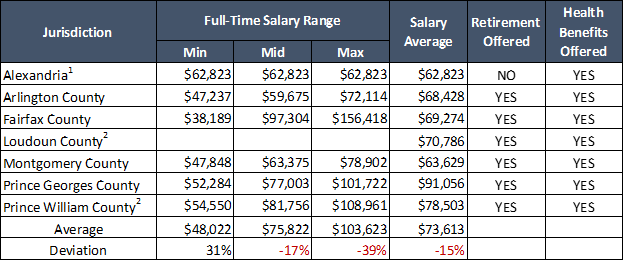 As a result of this analysis, taking the market rate salary average of the selected comparators of $73,613, annual salaries are calculated as follows for alternative employment scenarios.

Retirement and healthcare insurance benefits are offered to all full-time support staff in the region. Similar to the City of Alexandria, healthcare insurance is generally offered to employees with an employer subsidized premium. Jurisdictions with part-time permanent staffers offered many of those employees access to full healthcare benefits, but not all offered retirement benefits. City Council has the policy discretion in general to offer its Aides health insurance, life insurance, and retirement benefits and other benefits as offered to other City employees.
However, the Virginia Retirement System (VRS) does not permit part-time employees to be VRS members or to receive VRS benefits. This exclusion from VRS becomes moot if the Aides are increased to full-time. It should be noted that VRS has a mandatory 5% employee contribution requirement that is automatically deducted from employee salaries and a five-year vesting requirement.
Currently, Council Aide positions and salary are determined at the sole discretion of Council; and they do not receive regular merit adjustments without specific action from Council. Historically, when Council has re-evaluated Aide compensation, the studies showed that Alexandria Aides were performing at the same level as their comparators and wages were raised for cost of living or market realignment, or one-time bonuses were awarded from Council to Aides.
Re-estimated Council Aide Pay Adjustment Option for Council Consideration
In the FY 2021 memorandum, staff presented Council with three options for Council Aide pay adjustments, which included making Aide positions (1) full-time at 40 hours per week with full health and retirement benefits, (2) part-time at 30 hours per week with pro-rated health benefits, and (3) part-time at 20 hours per week with market adjustment and no health benefits.
Under the updated comparator analysis, with regards to Option 3 above, Council would provide Council Aides a salary based on an assumed 20-hour week and on the current market conditions ($36,806). The additional cost to adjust all Aides salaries to market rate and maintain their part-time employment status would be $34,908.
---
Footnotes:
1. Actual hours worked by City Council Aides is 20 hours per week.  For the purpose of comparing Council Aide pay with the market, salary is normalized based on a full-time, 40-hour/week work schedule.
2. Aides in these jurisdictions work a 37.5-hour week.
3. It should be noted that federal labor law recently increased the salary threshold for overtime (i.e. 1.5x pay) to $35,568 for hours worked over 40 hours per week. Whenever Council sets the Aide salary this new federal threshold will need to be taken into consideration.


---