Memo for fiscal year 2021, updated 2020-03-16
[Archived] Question # 53: Please provide a history of retiree life insurance changes.
Question:
Please provide a history of retiree life insurance changes. (Mayor Wilson)
Response:
The following table outlines the history of life insurance rate changes over the last ten years as well as the rate changes over the next three fiscal years (highlighted). Basic Life is the life insurance coverage provided by the City at no cost to employees and Additional Life is the voluntary life insurance coverage at additional cost that employees may elect.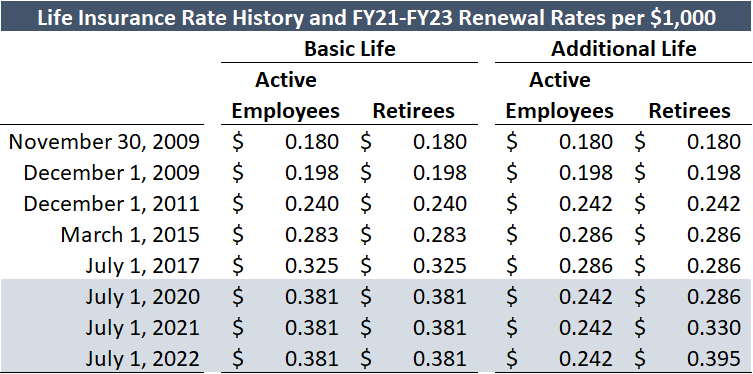 The policy changed on July 1, 2009, to grandfather the life insurance benefits (2x Basic Life and up to 2x Additional Life coverage continued into retirement) for employees hired before that date. New hires after that date received a 1x pay Basic Life coverage and could still elect up to 2x Additional Life, but no coverage could be continued into retirement.
As shown in the rate history, the City has had the same active employee and retiree rates for Basic Life and Additional Life coverages respectively. Inherently, due to differences in risk levels of these two target groups, this means the active employee rate has subsidized the retiree rate. As a result, active employees have been purchasing consistently less Additional Life coverage over the last 8 years (from 1,145 employees to 648) and retirees have been purchasing more (from 384 to 590). This year's renewal required a 15.5% overall premium increase due to a 230% loss ratio for Retiree Basic Life and 266% loss ratio for Retiree Additional Life.
The life insurance company the City partners with offered an option to help stabilize the program and lower the overall renewal costs by reducing the active rate and allowing employees to purchase one additional level of coverage without proof of good health at the FY21 Open Enrollment. The retiree Additional Life rate was proposed to increase rates to reflect the higher risk level over a 3-year period (offset partially by a lower imputed income cost).