Memo for fiscal year 2021, updated 2020-02-27
[Archived] Question # 24: How do our demolition fees compare to other jurisdictions?
Question:
How do our demolition fees compare to other jurisdictions? (Councilman Chapman)
 Response:
The following are the City's fees for demolition permits:
Residential accessory building or detached garage - $85.00
Residential structure or non-residential accessory structure -$150.00
Non-residential structures - $250.00
Residential or Non-Residential Interior Demolition – Minimum Fee $112.37
A bond is also taken at $1 per square foot of the building, which is returned once the building is demolished and the permit receives a final inspection
$125 per month for sidewalk closure
$30 per day per reserved parking spot
The City has collected $34,085 in revenue over the past five years.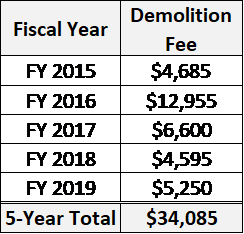 FY 2020 year-to-date revenue is $4,945.
Receipts are deposited to the permit fee special revenue fund for the purpose of covering the cost of plan review and inspections. This revenue has no impact on the General Fund.
Alexandria offers the lowest fee for interior demolition by charging the minimum fee of $112.37.
In 2019, the Arlington County demolition fees increased from $213.00 to $218.00. The Alexandria non-residential/commercial demolition fee of $250.00 is approximately 15% higher than Arlington County and 131% higher than the Fairfax County fee of $108.
The Arlington County Manager's FY 2021 proposed budget recommends adopting the proposed application of a 2.5% inflationary increase related to development services for inflation adjustments. The proposed FY 2021 demolition fee increases to $223 from $218 in 2019. There are no proposed changes to the fee schedules for Fairfax County and the City of Alexandria. 
The following tables compare the City's fee rates and structure to Arlington and Fairfax Counties:
Arlington County (2019 Fee Schedule)
Demolition
FEE
Building or Structure
$218.00
Interior demolition that does not involve any changes to structural or fire-rated assemblies
$218.00
Arlington County (FY 2021 Proposed Fee Schedule)
Demolition
FEE
Building or Structure
$223.00
Interior demolition that does not involve any changes to structural or fire-rated assemblies
$223.00
Fairfax County (2018 Fee Schedule)
Demolition
FEE
Building or Structure
$108.00
Partial Demolition for renovation: The fee for a permit to partially demolish a
 structure in preparation for renovation
2.40 % of Estimated Demo Cost
Alexandria City (2017 Fee Schedule)
Demolition
FEE
Residential accessory building or detached garage  
$85.00
Residential structure or non-residential accessory structure
$150.00
Non-residential structures
$250.00
Residential or Non-Residential Interior Demolition
Minimum Fee $112.37