Memo for fiscal year 2020, updated 2019-04-10
[Archived] Question #69: What is the breakdown of revenues and expenditures for the City Marina?
Question:
What is the breakdown of revenues and expenditures for the City Marina? (Mayor Wilson)
Response:
The table below highlights the revenues and expenditures associated with the City Marina.
Revenues
The annual licenses include fees collected for the docking of 54 pleasure boats and a $15,000 Docking fee for the Tall Ship Providence. The FY 2020 proposed budget includes a fee increase of $1 per foot in the annual license fee. The fee would increase from $11/ft./month to $12/ft/month for City residents and from $13/ft./month to $14/ft./month for nonresident license holders. The Marina fees represent the annual license fees for commercial boats operating from the City Marina and transient commercial docking. The FY 2020 proposed budget includes an annual rate increase for the Commercial Marina License consistent with the license agreement and an annual rate increase for the Outdoor Dining area consistent with the license agreement. The short-term fees are for transient pleasure boats include short-term docking (up to four hours) and overnight docking throughout the boating season. Marina services are in tier 5 of the resource allocation and cost recovery model policy adopted by Council in 2013. The cost recovery percentage for tier 5 is targeted at a minimum 175% of direct cost.
Expenditures
The City Marina is open seven days per week annually with two permanent FTEs (Dockmaster and Assistant Dockmaster) assigned to the Marina who are responsible for managing the day-to-day operations such as safety inspections, docking assistance, fee collection, trash receptacle emptying, floating debris removal and monitoring and cleaning of public restrooms and boater restrooms and showers. There are also seasonal Dock Assistants who support professional staff in day-to-day operations. Fees for Professional Services largely includes funding for credit card transaction fees, maintenance, landscaping and security camera maintenance. Operating Supplies and Materials includes plumbing and electrical maintenance, custodial services, health and safety equipment, landscaping including hanging baskets, painting and signage. The City Marina receives approximately 200,000 visitors annually through commercial operations.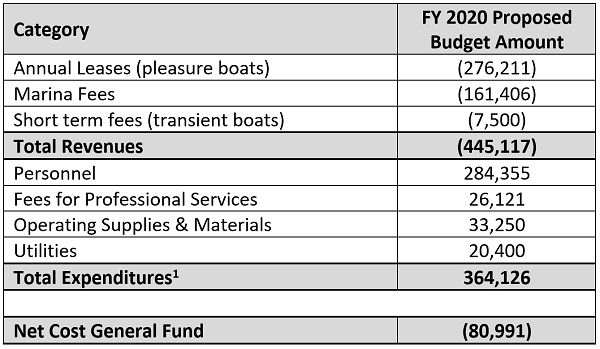 In addition to the annual operating costs, there is $75,000 budgeted in the City Marina Maintenance Project in the CIP for FY 2020 addressing recommendations in the 2013 City Marina Maintenance Assessment. Also, in the CIP, the City has invested to date $1.25M in the City Marina Utilities Upgrade project, $1.8M for dredging, and $20,000 for Structural & Mooring Analysis for the temporary docking of the Tall Ship Providence.
1 When compared to the PBB 2019 costs listed in the FY 2020 Proposed Budget, the total expenditures in the table above do not reflect a portion of several administrative positions within the department.