Memo for fiscal year 2020, updated 2019-04-02
[Archived] Question #65: Response to online request from Alexandria Commanders Association.
Question:
Response to online service request from Alexandria Commanders Association. (City Manager Jinks)
Response:
This memo is provided with regard to the recent request that was submitted online. by Michael Kochis, President of the Alexandria Commanders Association.
Following a Police Public Safety Working Group (PSWG) meeting on January 4, 2019, 
Mr. Kochis requested to discuss his concerns of pay inequity that he believed resulted from maintaining salaries for Deputy Chiefs who were reclassified and placed in Police Captain positions as a result of a reorganization.  The City chose to maintain these higher salaries in order to prevent financial harm to all incumbents, female and male, and did this acknowledging that this would result in these employee's salaries being considered "red-circled" and outliers within the Police Captain classification. On February 26, 2019, Mr. Kochis presented his concerns and outlined what he believed to be two contributing issues – (1) that this pay decision as a part of the reorganization "might be a violation of the Equal Pay Act", and (2) that the 6.22% increase in October 2019 and proposed adjustment to the Executive Pay Scale have left Lieutenants and Captains as the only classifications that are behind the average of the market based on the review of market alignment in October.
The City's Human Resources Department (HRD) reviewed Mr. Kochis' concerns, and a response was provided on March 27, 2019 that explained why there was no violation of the Equal Pay Act, and the business decision to maintain the higher salaries of the former deputy chief's.  Additionally, the 6.22% increase that was provided to all classifications on the police pay scale was the result of a proposal that was presented by Mr. Kochis on behalf of the Police PSWG membership at a City Council meeting last Spring.  This strategy of applying a 6.22% increase resulted in an even increase across all Police classifications but was not designed to address how much individual classifications deviated from the market average pay; this outcome was identified and shared by HRD with the PSWG at a meeting prior to finalizing the proposal.  As a result, the goal to improve the average midpoint was achieved but individual classifications that were farther behind in the market did not reach the same level of improvement that would align the range midpoint to the comparable market midpoint. In effect those police classifications which were more below market helped raise other Police classifications that were less below market. This was the agreed to methodology in which making an on-off adjustment at this time just for Police Lieutenants and Captains would be inconsistent with the agreed to methodology. The right time to address regional public safety competitiveness would be (as indicated in my attached memo) as part of the FY 2021 budget process.
The three PSWG's (Police, Fire, Sheriff) were established by the City Manager to collaboratively engage employee's in public safety departments to be active participants in City HR related activities from beginning-to-end, including salary benchmarking, policy evaluation, and identifying opportunities to support the employee population.  Last Spring, all PSWG groups were provided with guidance that expressed the City's desire to focus on activities related recruitment and retention of public safety employees.  While pay has been the priority topic of the PSWG, a focus on recruitment and retention must also include well-rounded and diverse programs that work together to support all employees. As our pay systems continues to be refined to make the City responsive to market changes, the focus must expand to ensure that we have meaningful, sustainable programs.
Additionally, we must maintain our commitment to General Scale employees as they also face challenges in recruitment and retention.  Over the last five years, General Scale increases have been limited to a single-step expansion of their pay scale and 1% increases for five years as an offset to the increase to VRS mandatory contributions.  A summary of increases that have been approved on the City's pay scales is below: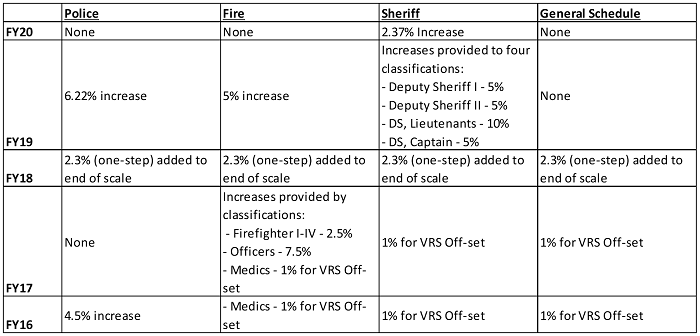 Competition in the market for public safety positions is high and is expected to continue to be a top priority in the region; a number of neighboring jurisdictions are increasing public safety compensation in FY 2020, which triggers the City's planned review for FY 2021.
Attachment – City Manager's response to Police Commanders Association