Memo for fiscal year 2018, updated 2017-05-02
[Archived] Question #83: Summary of Decisions from Final Add/Delete Work Session
This memo was published on May 2, 2017 and revised May 3, 2017.1
The attached worksheet reflects the decisions made by City Council in the Monday, May 1, 2017 final add/delete work session. As detailed in the table below, the result of these decisions is a General Fund budget of $728.1 million to be adopted at the Thursday, May 4, 2017 special legislative meeting. General Fund expenditures increase $40.0 million or 5.8% over the FY 2017 General Fund Budget and $15.7 million over the City Manager's FY 2018 Proposed Budget. However, City Operations are increasing only 2.3%. The $4.9 million increase in City Operations includes a $4.3 million for a major affordable housing project, and the $11.2 million cash capital increase includes $10.9 million to be set aside for future City and Alexandria City Public Schools facility construction projects pending the recommendations of an Ad Hoc Joint City/Schools Facility Investment Task Force established through the budget process. In total, cash capital investments increase to $37.9 million, which represents a substantial 59% increase.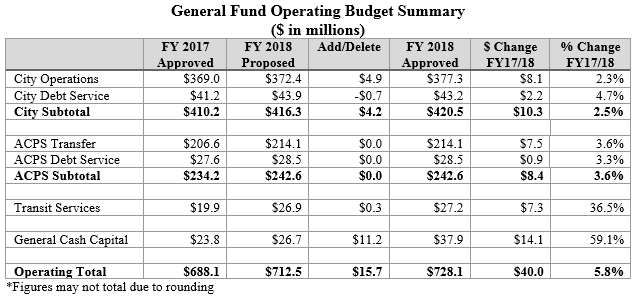 As noted in Attachment 1, funding for several of the items added to the budget have been placed in Contingent Reserves, requiring further action by staff before the funds may be released by City Council. These items are:

Early Childhood Education ($451,743) using funding originally purposed for NVJDC. This requires further discussions on the future of the Northern Virginia Juvenile Detention Center (NVJDC) to begin between the NVJDC commission, other partner jurisdictions, and staff to determine whether this funding is still needed for NVJDC. If staff determines it is not needed for NVJDC, it can be released for Early Childhood Education purposes.


Red Light Cameras ($123,000) which requires further information from staff and discussion regarding site selection of the 2 additional cameras.


Also placed in Contingent Reserves was an expenditure technical adjustment of $52,000 for a Sheltercare staffing request received after the budget was proposed. 

Additionally, the final add/delete work session has an impact on the Capital Budget. As detailed in the table below, the result of the decisions is an FY 2018 Capital Budget of $145.3 million, a decrease of $5.0 million from the City Manager's Proposed Capital Improvement Program (CIP). The net reduction includes the addition of $10.9 million for City and ACPS facility projects and a $15.9 million reduction in City borrowing for Metro capital as Metro will undertake that borrowing. The FY 2018-2027 CIP totals $2.1 billion, an increase of $114.2 million from the City Manager's Proposed CIP, including $130.1 million over ten years for City and ACPS facility projects. The FY 2018 Capital Budget and FY 2018-2027 Capital Improvement Program will be adopted at the Thursday, May 4, 2017 special legislative meeting.


ATTACHMENTS:
Attachment 1 – FY 2018 Final Add/Delete Worksheet

1This memo has been revised to reflect the following changes:
City Debt Service has been reduced by $0.3 M from $43.5 M to $43.2 M due to stormwater utility debt service previously included in the General Fund. City Operations has been increased by the same amount.

The total CIP and future cash funding for City/Schools Facility Investments has been increased by $7.2 M, from $2,107.6 M to $2,114.8 M, and from $122.9 M to $130.1 M respectively due to a recalculation of future real estate tax resources available in future years.