Memo for fiscal year 2017, updated 2016-04-21
[Archived] What are the revenue re-estimates and technical budget adjustments proposed by staff for add/delete?
Below is a summary table of the changes. The following pages outline the changes in more detail. The sum of these changes results in $212,427 available for City Council designation during add/delete.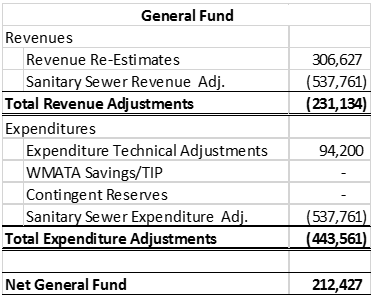 Also included are recommendations that $556,102 in WMATA operating budget savings be reprogrammed for the Transportation Improvement Program (TIP), with its use to be determined with input from the Transportation Commission;  that $850,000 in WMATA capital budget savings be reprogrammed to the CIP street reconstruction project; and that Contingent Reserve funding in the Proposed Budget be transferred to the Police Department for traffic enforcement and Other Public Safety & Justice Services for the Northern Virginia Juvenile Detention Center (NVJDC) as described in the following pages.

Revenue Changes

Annually, at the beginning of April, City staff re-estimates current fiscal year and subsequent fiscal year revenues based on additional months of collection data. The result of those projections shows a projected overall increase of $306,627 in FY 2017 revenues.
FY 2017 revenues improved based on recent collections in the areas of Vehicle Personal Property Tax, and Sales Tax collections. The total increase in FY 2017 General Fund revenue compared to the amount estimated in the City Manager's Proposed Budget is $306,627.

The following table below includes the FY 2017 revenue estimation changes from February to April.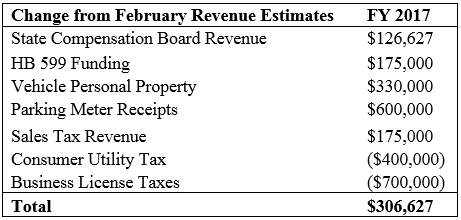 The revenue re-estimates described in detail below reflect current tax rate and revenue policies continued or already reflected in the FY 2017 Proposed Budget. 

The FY 2017 revenue estimates in the FY 2017 Proposed Budget were based on revenues and trends through December 2015. The latest estimates are based on revenue collections through March 2016, with exceptions as noted below.  Based on actual receipts and trends through March, the FY 2016 revenue estimates have been changed as detailed below. These technical revenue adjustments will be reflected on the preliminary and final Add/Delete list.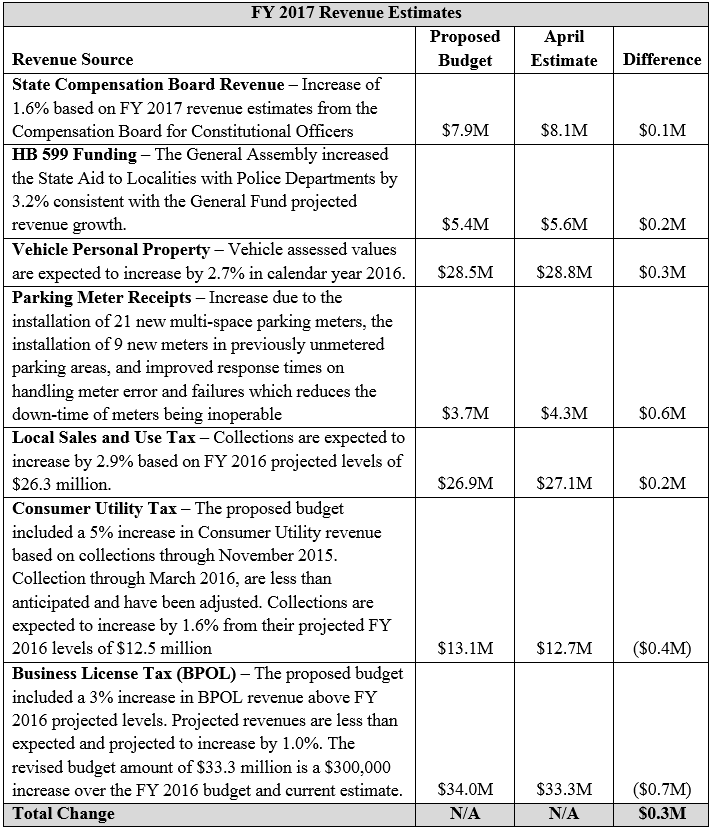 Technical adjustments also include a $537,761 reduction in the General Fund transfer from the Sanitary Sewer Fund, which is offset by a corresponding reduction in debt service for no net General Fund impact. The Sanitary Sewer plan approved for FY 2016 and used as the basis for the FY 2017 proposed budget included a debt issuance to fund capital projects in FY 2017 and a transfer of Sewer Fund revenue to the General Fund to pay for the debt service. T&ES has amended that plan to exclude debt issuance in FY 2017 and the debt service is not needed.
Expenditure Changes
Expenditure Technical Adjustments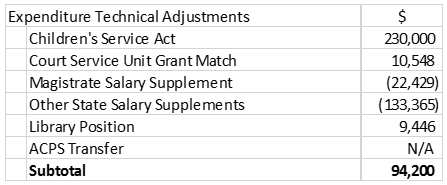 Children's Services Act: An additional $230,000 is being added to the Children's Service Act in the Department of Community and Human Services. This amount is needed for the recent trend toward more children requiring higher cost service and was not included as part of the Proposed Budget.

Court Service Unit Grant Match: The cost of the Virginia Juvenile Community Crime Control Act (VJCCCA) grant in Court Service Unit has increased in FY 2017. These funds will cover the increased amount for the City's match for this grant.

Magistrate Salary Supplement: Due to recently retired magistrate in the Magistrate's Office, the City can reduce the supplement to the office by $22,429. The State no longer allows new magistrates to be supplemented by a locality, so this funding is not needed.

Other State Salary Supplements: Due to the increased State employee salaries included in the State's budget, the cost of the City's supplement for State positions is decreasing by $133,365. 

Library Position: In order to realize the full revenue amount budgeted for Passport Services, the Library needs a part-time position which is included in the proposed FY 2017 budget. However, the amount estimated in the budget for this position was insufficient to cover its cost and an additional $9,446 is being added.

ACPS Transfer: The State budget includes a $375,272 increase in the ACPS Operating Fund revenue. With no action by City Council, this will be available to assist ACPS close part of the $0.9 million gap between their proposed City transfer amount and what is in the City Manager's FY 2017 Proposed Budget. 

Contingent Reserves
The following transfers from Contingent Reserves to departments are recommended as technical adjustments. If Council wishes to transfer ACPS contingency funding, a separate memo on how to do so is being prepared.

Traffic Enforcement: Staff is recommending to transfer $400,000 from Contingent Reserves to the Police Department for enhanced traffic enforcement with 3 additional Motors Unit positions. The balance of $100,000 in Contingent Reserves for traffic enforcement will be reserved for parking adjudication in the Finance Department and released at a later date.

NVJDC Contribution: After discussion with NVJDC staff, of the $174,806 in Contingent Reserves for additional staffing, $62,814 can be reduced due to a reduction in the number of proposed staff required to comply with Prison Rape Elimination Act requirements. As such, $111,992 is proposed to be transferred to Other Public Safety & Justice Services to increase the contribution to the NVJDC.
Contingent Reserves Remainder: City Staff recommends retaining the $62,814 that is no longer needed by the NVJDC in Contingent Reserves for use City Council to be determined priorities. One possible use is to increase the six City Council aide salaries depending on the final analysis by Human Resources which is being completed at this time. Staff will provide City Council with an analysis in May.
WMATA/TIP
The latest WMATA operating budget estimates for FY 2017 include a $556,102 reduction in the City subsidy.

TIP Funding: Staff recommends using all of the WMATA subsidy reduction ($556,102) to fir TIP project funding purposes. Specific project(s) for this funding could be proposed to City Council by the Transportation Commission at a later date.    
Other Expenditure Adjustments
The Sanitary Sewer plan approved for FY 2016 and used as the basis for the FY 2017 Proposed Budget included a debt issuance to fund capital projects in FY 2017 and a transfer of Sewer Fund revenue to the General Fund to pay for the debt service. T&ES has amended that plan to exclude debt issuance in FY 2017 and the debt service is not needed.

Sanitary Sewer Debt Service: The Sanitary Sewer debt service amount is being reduced to reflect removing the anticipated revenue to the General Fund to pay for Sanitary Sewer debt service and is offset by a corresponding reduction in General Fund revenue from the Sanitary Sewer Fund, resulting in no net General Fund impact.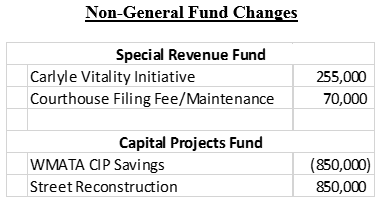 Special Revenue Fund

Carlyle Vitality Initiative: The Carlyle Vitality Initiative is funded by developer contributions to enhance to improve the quality of life in Carlyle and its competitiveness in the regional office market. City Council appropriated $15,000 for Planning & Zoning in FY 2016. For FY 2017, Planning & Zoning has identified additional improvements, including events, public art, wifi and others at a cost of $255,000. This is consistent with the Carlyle Vitality Initiative update provided to City Council in November 2015 and was inadvertently omitted from the FY 2017 Proposed Budget
Courthouse Filing Fee/Maintenance: The Courthouse Filing Fee was proposed to be increased from $2 to $5 per filing to pay for renovation or capital maintenance needs at the Courthouse. This revenue amount (and corresponding expenditures) were inadvertently omitted from the Proposed budget and are now being added. The fee rate ordinance will be docketed for budget adoption.
Capital Projects Fund

WMATA CIP Savings:  The Proposed FY 2017 – FY 2026 CIP WMATA Capital Contribution included $850,000 for the City's share of debt service on a planned WMATA debt issuance. Subsequent to budget proposal, WMATA has informed the City that there will not be debt service payment in FY 2017, resulting in a savings of $850,000. Staff recommends keeping these funds for transportation purposes and using these funds for additional street reconstruction in FY 2017. Given State revenue sharing grant funds are at risk, these monies could be used to replace some or all of any lose revenue sharing grants, or could be used to increase the level of street reconstruction.